We've put together a FREE downloadable PDF containing instructions on How To Play The Hat Game including our list of 30 topical suggestions of words and phrases to use for The Hat Game – everything you need to need to get started. The idea is that you download and print the PDF, cut up the suggestions on pages 3 and 4 and optionally add some of your own suggestions using the template on page 5. You don't need to use all 30 words and phrases included.
All you need to add is a container to put the paper slips in, a timer and some people to play with and you're all set.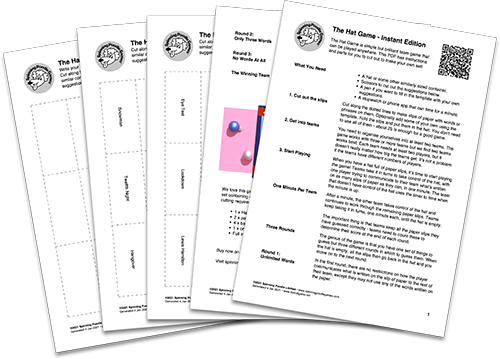 We update the suggestions regularly to keep them relevant!
Please feel free to circulate the download amongst your friends and family.
Click here to download the printable instructions pdf now!
Play The Hat Game via Zoom
Using this download, it's even possible to play The Hat Game via Zoom! Get each location to use the pre-printed suggestions – there is no point in using your own. Use a hat for each location, and put a random selection of 10 or 20 out of the 30 suggestions in each hat. You don't need to coordinate suggestions, it's better if they are slightly different, but not a problem if they are the same. Then just play as normal – instead of passing the hat between teams, you just use the hats at different locations, again playing until the hats are empty and putting all the slips back in before moving on to the next round.